Corporate eLearning Solutions:
We offer flexible and cost-effective bid skills elearning programmes for organisations of all sizes and sectors.
You save time and money, as the programme can be tailored to the specific needs of your team, regardless of their level of current experience or role. You only pay for the modules you need, and your participants focus specifically on the subject matter they need for their responsibilities – not the entire programme.
You can host the knowledge modules on your own learning management system or access them via our platform. If required, we can customise elements of the content to match your corporate branding.
The process starts with a free consultation to establish your precise needs and outcome objectives. We then build a proposal, based on these requirements, for you to consider.
If you would like to start a conversation about how elearning could help you, please use the form below to contact us.
---
Individual eLearning Programmes:
This option is for individuals: current bid professionals wanting to revisit and refresh skills or bid people new to the role but looking for quality training.
You can browse our catalogue of modules, select the ones you need and get started immediately. If you would like some guidance beforehand, please feel free to contact us, as above, for advice.
---
Why eLearning?
Acquiring knowledge and skills at your own pace, at a convenient time and location, and within your learning budget is critical in our modern, connected world.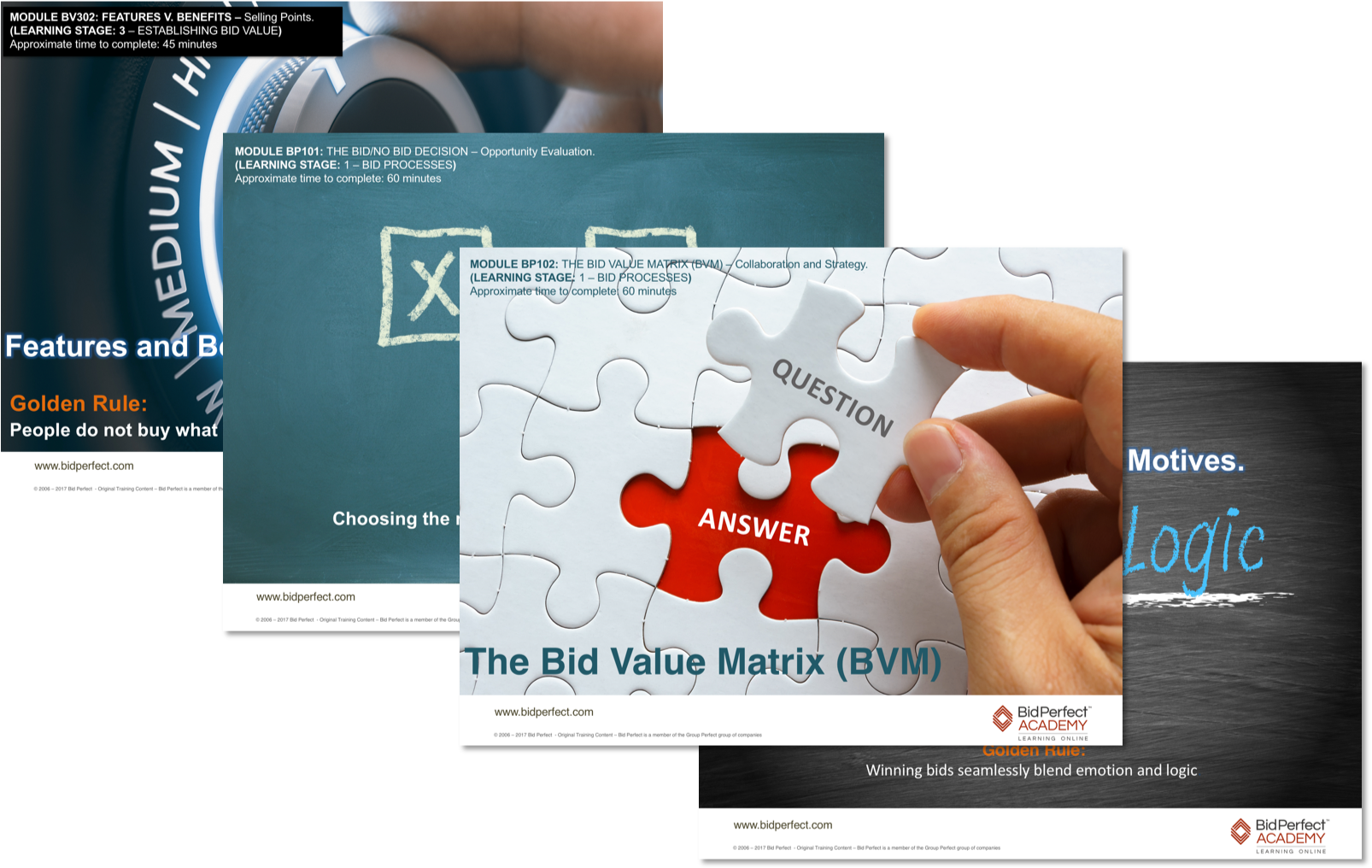 Across all sectors, bringing together large and diverse teams into a single training room, may not always be seen as the most economical use of time or money. Increasingly, organisations and individuals are seeking more time and cash efficient training options.
If you have undertaken a traditional training programme, the potential for a higher return on your investment is maximised through revision and refreshment of the learning for all participants.
eLearning programmes provide the solution to these issues.
Why Bid Perfect?
Since 2007, our bid skills training programmes have acquired a highly regarded reputation as a benchmark for success. The techniques we have developed are easy to understand and to adopt. They are used by clients who are global leaders in their respective sectors. However, we understand that access to high quality training is sometimes inhibited by logistic considerations, time constraints and budgets.
Our eLearning programme solves these issues. You can access cost-effective, winning bid skills training, easily and conveniently. If you are an individual wanting to improve your skills and career prospects, then you can invest in our learning programmes at a pace and cost that is sensible for you. For organisations with extensive training requirements and  geographically diverse personnel with disparate roles, Bid Perfect's elearning programme provides unlimited scale and complete flexibility, which means exceptional value for money.